We have been educating children for over fifteen years. Our goal is to create a place that engages each child.
By learning about those of differing social, cultural and religious perspectives, young people build their awareness of the role of faith in their lives and in the lives of others.
Welcome to Cupid
Fable daycare, preschool, and kindergarten
Meet our Staffs
Ensure high standards of quality and professional service
From our Blog
Latest news & event of our schools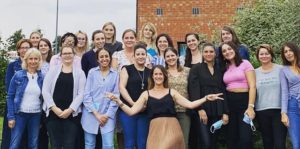 Ce 16 septembre, nous avons réuni les équipes des 5 micro crèches pour notre réunion de rentrée ! Tout s'est passé dans une superbe ambiance ! Quel bonheur de pouvoir concilier travail et rire ! Après 18 mois difficiles, nous démarrons l'année avec plein de projets !
En Juin 2018, l'ensemble de l'équipe d'Happy Ruche a participé à une journée d'équi-coaching avec Cavalliance. Sidonie Coisne, gérante du réseau, témoigne : (cliquez sur le lien ci-dessous)